Committed to Words and Memory
THE SPRINGFIELD AREA ARTS COUNCIL ANNOUNCES
ILLINOIS STATE WINNERS
"Poetry is a life-cherishing force.  For poems are not words, after all, but fires for the cold,
ropes let down to the lost, something as necessary as bread in the pockets of the hungry."
These lines from Mary Oliver were written in the program for the Illinois State Contest of the Poetry Out Loud: National Recitation Contest.  The competition was held on Friday, March 8, 2019, at the Hoogland Center for the Arts in Springfield.   Scottlynn Ballard from Edwardsville Senior High School (Edwardsville) was declared the winner.  She will advance to the national competition in Washington, D.C., in late April.
To win the competition, Scottlynn recited "Worth" by Marilyn Nelson, "Self-Help" by Michael Ryan, and "Ode" by Arthur O'Shaunessy.
Alyssa Argent, William Howard Taft High School (Chicago), was named runner-up.  Rounding out the top five were Nico Chiligiris (Central High School, Champaign), Charles Hsu (Deerfield High School, Deerfield), and Bushra Khan (Maine East High School, Park Ridge).
The Illinois State Contest featured recitations by two students from each of eight Poetry Out Loud regional contests in the state:  Belleville, Carbondale, Champaign, Chicago-City, Chicago-Metro, Rockford, Rock Island, and Springfield.
Other students participating from around the state:
Cassandra Bradbury, Pawnee High School (Pawnee)
Isabella Brown, Edwardsville High School (Edwardsville)
Kenzie Clerk, Carbondale Community High School (Carbondale)
Stephanie Collis, Orion High School (Orion)
Regan Cook, Bureau Valley High School (Manlius)
Nanette Nkolomoni, Mather High School (Chicago)
Kylie Rauch, Clay City  High School (Clay City)
Grace Sturtewagen, Annawan High School (Annawan)
Paige Twidell, Bureau Valley High School (Manlius)
Cole White, Pawnee High School (Pawnee)
Ian Wilkey, Central High School (Champaign)
Contest staff for the 2019 Illinois State Contest included
Recitation Judges:
Karen Hunter Anderson, Rochester – educational administrator and writer
Kayem, Chicago – poet and performer
Jim O'Brien, St. Joseph – poet and poetry workshop leader
Amy Sayre Baptista, Springfield and Chicago – poet and community arts organizer
Accuracy Judge: Théa Chesley, Springfield – poet and librarian
Prompter: Laura Sievert, Quincy – arts administrator
Scorekeeper: Bob Jessup
M.C. : Jim Leach
Special guest at the contest was Justine Haka, program manager at the Poetry Foundation in Chicago, Illinois.
Poetry Out Loud in Illinois is a collaborative project of the Illinois Arts Council Agency and seven arts agencies, each of which hosts a regional contest.  The Poetry Out Loud:  National Recitation Contest is a national program that encourages high school students to learn about great poetry through analysis, memorization, performance, and competition.  The National Endowment for the Arts and The Poetry Foundation, in conjunction with state arts agencies, support this nation-wide program with participants from all fifty states plus Washington, D.C., the U.S. Virgin Islands, and Puerto Rico.
In Illinois this year, 45 high schools were part of Poetry Out Loud.  249 teachers.  More than 11,000 students.
"Among the benefits of the Poetry Out Loud program is that it helps young women and men find something they're good at.  These students are so talented and insightful," said Sheila Walk, contest organizer, during the post-contest reception, "and they are so supportive of one another."
More information is available at www.poetryoutloud.org or from the Springfield Area Arts Council (programs@springfieldartsco.org).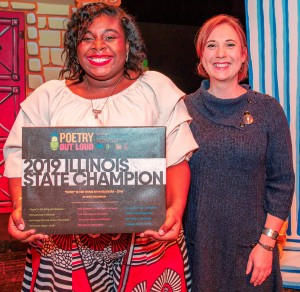 Photograph of Scottlynn Ballard and Justine Haka
William Richards, photographer
Award designed by Jensine Williams