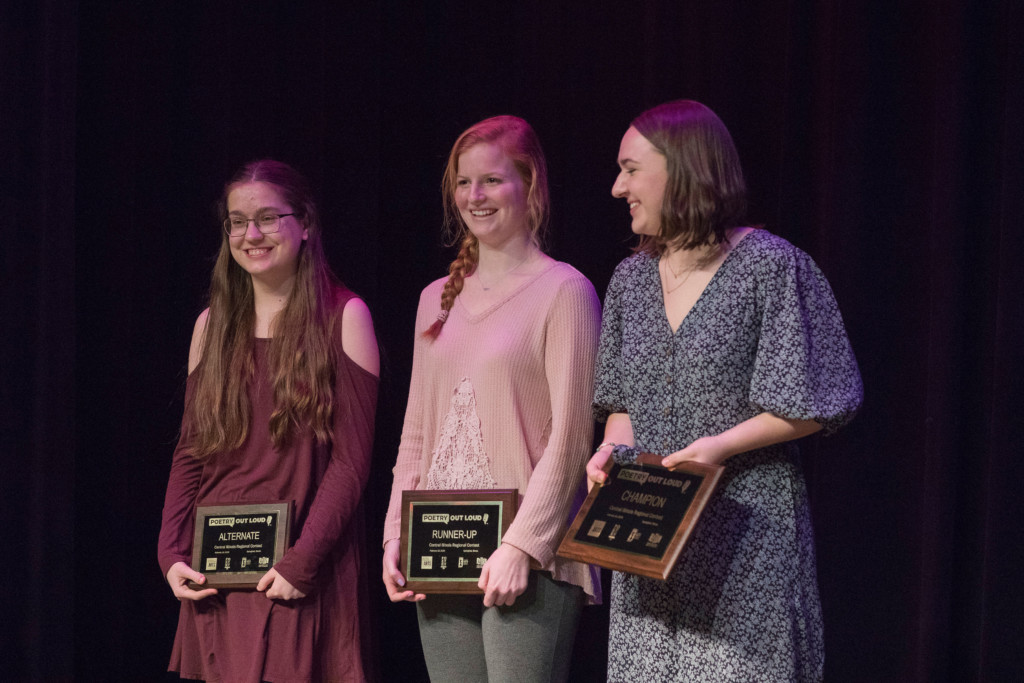 Photo: Alternate Joy Brown, Springfield High School, with Lambert and Hughes at central Illinois regional contest – Hoogland Center for the Arts – February 13, 2020  (Photographer: Kari Bedford)
"A poet is someone who can pour light into a cup, then raise it to nourish your beautiful parched, holy mouth."  حافظ  Hafiz
Sixteen students from around Illinois will participate in state-wide poetry recitation contest.
Scottlynn Ballard, Edwardsville High School senior, will return to Springfield to defend her 2019 championship title.
Grace Lambert, Sacred-Heart Griffin High School, and  Sylvia Hughes, will represent the Central Illinois region.
Award-winning teenagers from around Illinois are set to compete in Springfield for a slot in the 2020 Poetry Out Loud National Recitation Contest in Washington, D.C., in late April. This event is free and open to the public. It is set to begin at 10:00 A.M. on Monday, March 2, 2020, in the LRS Theatre of the Hoogland Center for the Arts at 420 South Sixth Street in downtown Springfield.
The Springfield Area Arts Council will host sixteen high school students who were winners and runners-up in competitions held this month in eight regions spanning Illinois. Starting in their own classrooms, these students study, memorize, and recite renowned classic and contemporary poetry at each level of competition. A panel of poets, teachers, and performers judges each recitation. The state champion will receive a trip to the nation's capital to join a field of fifty-three students vying for the top prize, a $20,000 scholarship.
The Springfield Area Arts Council coordinates this annual contest in partnership with the Illinois Arts Council Agency. Poetry Out Loud is backed by the National Endowment for the Arts and the Poetry Foundation. Now in its fifteenth year, the contest is designed to encourage interest in poetry at the high school level. In Illinois this season, over 10,000 students and 200 teachers from more than 40 Illinois public and private high schools participated.
More information available at www.poetryoutloud.org.