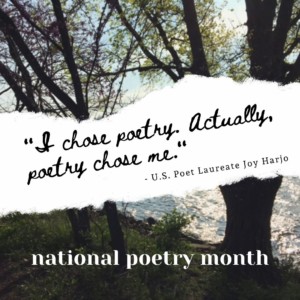 April is National Poetry Month and luckily there are many ways to celebrate while staying safe at home. Check out the links below for poetry readings and resources tailored to remote enjoyment.
• From The Academy of American Poets,a list of 30 Ways to Celebrate National Poetry Month in the Virtual Classroom as well as 30 Ways to Celebrate National Poetry Month at Home or Online.

• From Lit Hub, Some of the best of online poetry, read by poets

• From the Poetry Foundation, the April issue of Poetry Magazineis free through their app

•From The Atlantic, Books Briefing: If Your Attention Span Is Shrinking, Read Poetry

• From the Geraldine R. Dodge Poetry Program, Resources for Teachers

• From the Academy of American Poets, "Shelter in Poems." To participate, select a poem that gives you hope from the Poets.org collection and post a sentence or two about why the poem inspires you on social media with the hashtag #ShelterinPoems. The Academy will be considering responses and gathering the poems and testimonials in a special newsletter and sharing it online each week.

• From the Poets House, 10*10*10 with Dave Johnson. Join Dave Johnson to write a new poem in only 10 minutes. They will present a new video every weekday for 10 days, posted to Twitter, Facebook, YouTube and on their website.

• 826 Digital – a free online platform where you can browse a wide variety of creative writing teaching resources and student writing examples for K-12 children.

• From the Poetry Foundation, a list of online poetry resources which includes teacher-specific resources, online courses in poetry, and audiovisual archives.

• From the Academy of American Poets, the Dear Poet project. Dear Poet is a multimedia education project that invites young people in grades five through twelve to write letters in response to poems written and read by award-winning poets. This year's deadline to write a letter to a poet is April 30th.

• From the Poetry Foundation and Complexly, Ours Poetica, a tri-weekly video series that captures the intimacy and physicality of holding a book while engaging with a poem read by a distinctive voice. New episodes are out on Mondays, Wednesdays, and Fridays.
However you choose, choose to make poetry a part of your day this month.