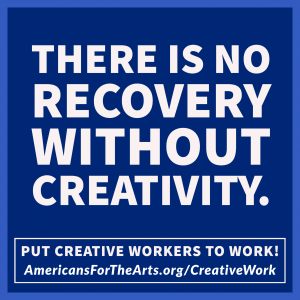 The policy proposal,"To Rebuild and Reimagine the United States Post-Pandemic, We Must Put Creative Workers to Work", was developed with over 100 partners throughout the creative community to Put Creative Workers to Work in the national recovery.
This proposal debuts with over 775 endorsements from creative organizations and creative workers. It combines suggested actions from, among other sources, Standing for Cultural Democracy, the Cultural New Deal for Cultural and Racial Justice, various working papers from Americans for the Arts, Californians for the Arts' Job Creation Strategies and Actionable Items for the Arts Sector, Arts Wisconsin's We're All In Creative Workforce Program, and THE OFFICE's Artists at Work program. It is also the result of combined work from over 100 members of the creative community through the Getting Creative Workers Working Coalition, a coalition of National Arts Service Organizations and Regional Arts Organizations, and Americans for the Arts' various networks, including the State Arts Action Network and the United States Urban Arts Federation. Such solidarity makes a strong statement, and we are looking forward to adding to that growing list of endorsements.
There is no recovery without creativity. To rebuild, we must Put Creative Workers to Work both nationally and right here in Springfield.
As local, state, and federal legislators begin to think about how our communities will recover from and reimagine ourselves after the Coronavirus pandemic, they must put the country's creative workers to work in that recovery. The creative economy is an $878-billion industry that supports 5.1 million jobs and represents 4.5% of the nation's economy, according to the U.S. Bureau of Economic Analysis.
In the months to come, both the national and local economy will need the arts and culture sector to deliver on its unique mission and catalyze economic activity, while also addressing the social and educational needs of a community emerging from a disaster.
For that reason, the Springfield Area Arts Council has joined Americans for the Arts and over 725 other cultural organizations and creative workers across the country to propose 15 actions to Put Creative Workers to Work, activating the creative economy for the common good, energizing our fellow citizens, reimagining how communities can thrive, sparking economic growth, and improving the lives of us all.
We encourage all members of this community to read the full proposal, which can be found at http://www.AmericansForTheArts.org/CreativeWork, and consider how we might integrate the proposed policies into our own local recovery.
The COVID-19 pandemic has devastated America's arts industry-63% (!) of the nation's artists and creative workers are now unemployed and thousands of arts businesses doubt they will survive the pandemic. Despite that, 3 out of 4 artists have used their creative practice to address community needs, raise morale, and create community cohesion, and over 80% are ready to deploy their creativity to support the recovery, according to research from Americans for the Arts.
To date, 725 arts and culture organizations and creative workers from 48 states and the District of Columbia have endorsed the proposal to Put Creative Workers to Work, which will be shared with both Presidential campaigns and members of Congress.
The proposal encourages decision makers at all levels of government to (1) directly employ creative workers in the recovery, (2) encourage employment of creative workers throughout government and in the private sector in service to recovery, (3) adjust existing local, state, and federal policies that keep creative workers from being treated equally to other workers, (4) integrate creative efforts such as arts-based therapies into response, recovery, and resilience efforts, and (5) support access to arts, culture, and arts education for all Americans-particularly right now.
To view the full 15-action proposal as well as the ever-growing list of endorsing organizations and individuals, visit "To Rebuild and Reimagine America, We Must Put Creative Workers to Work" at http://www.americansforthearts.org/CreativeWork.
Arts organizations and artists are vital contributors to the nonprofit sector, are essential to the economy of the communities they serve, and they should be supported by all forms of relief.
Without creative workers, we cannot fully recover-and they are ready to serve. So, let's Put Creative Workers to Work.