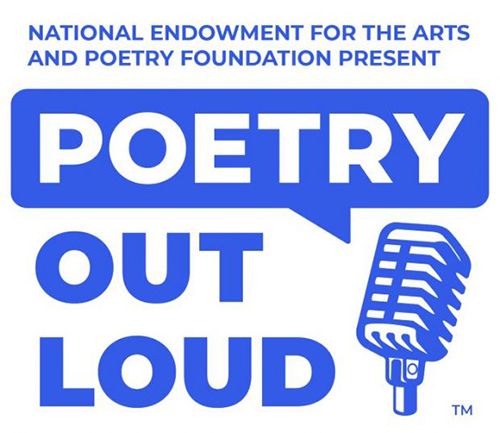 Lo! 't is a gala night
   Within the lonesome latter years!  
An angel throng, bewinged, bedight
   In veils, and drowned in tears,  
Sit in a theatre, to see
   A play of hopes and fears,
While the orchestra breathes fitfully  
   The music of the spheres.
-from "The Conqueror Worm" by Edgar Allan Poe
These words, recited by Ryan Horstman of Springfield's Sacred Heart-Griffin High School, earned him third place in the Central Illinois Poetry Out Loud Contest held this month.
Thaddeus Bergschneider and Madden Delaney of Franklin High School were the top two finishers in the competition.  They will advance to the Illinois State Finals in March.  Due to the pandemic, all competitions are held virtually.
The Illinois State Contest will feature recitations by two students from each of eight Poetry Out Loud regions in the state.  The Illinois State champion will advance to the national contest.
260 students and 10 teachers in 5 schools began the 2021 Poetry Out Loud season in central Illinois last fall.
Other contestants in the Central Illinois Regional Contest were
Elisabeth Anderson and Maddy Graham, Eureka High School (Eureka)
Makenna Gill and Bethany Wagner, Morton High School (Morton)
Grace Lambert, Sacred Heart-Griffin High School (Springfield)
Alysa Samaniego, Springfield High School (Springfield)
Contest staff for the Central Illinois Regional Contest included
Recitation judges:  Randy Brooks, Carol Davis, and Juliann Quigg
Accuracy judge:  Thèa Chesley
Scorekeeper:  Bob Jessup
Technician:  David Cain
Poetry Out Loud in Illinois is a collaborative project of the Illinois Arts Council Agency and seven agencies, each of which hosts a regional contest.  The Poetry Out Loud:  National Recitation Contest is a national program that encourages high school students to learn about great poetry through analysis, memorization, performance, and competition.  The National Endowment for the Arts and The Poetry Foundation, in conjunction with state arts agencies, support this nation-wide program with participants from all fifty states plus Guam, Washington, D.C., the U.S. Virgin Islands, and Puerto Rico.
More information is available at www.poetryoutloud.org.