2023 First Night® Springfield
Downtown Springfield once again will celebrate New Year's Eve with fireworks, entertainment, and fun for all.  Yes, after a long pandemic-pause, a Springfield tradition returns.  Following a virtual event in 2020 and a COVID-cancelled event in 2021, First Night® Springfield again is being produced by the Springfield Area Arts Council in partnership with the Hoogland Center for the Arts and the City of Springfield.
Families are invited for interactive fun, free of charge events from 1:00 to 4:00 P.M. on New Year's Eve at the Hoogland.  These afternoon arts and crafts range from designing bead bracelets to creating a fireworks shaker and are a gift to the community from Dana-Thomas House Foundation, Garvey-Tubman Center, Illinois State Museum, Lincoln Memorial Gardens, Lowe's, Memorial Foundation, and YMCA.  Springfield Dance also will perform.  No pre-registration is required.
A locally-written play by Robert Davis will mark Watch Night, an African-American custom recalling the vigil leading to January 1, 1863, when Abraham Lincoln's Emancipation Proclamation freed southern Blacks held in slave bondage.  The play will be performed at 4:00 P.M. at Union Baptist Church.
The Hoogland Center is the site for much family-friendly evening entertainment. From 6:00 to 10:30 P.M., many performances will roll out inside the Hoogland Center.  Already signed up to perform are The Lovelorn, Capital Big Band, Geoff Ryan and Tom Beverly, and the Springfield International Folk Dancers.  More acts will be announced very soon.  Sangamon Watercolor Society will exhibit members' work in the main floor gallery.
Light refreshments will be available during both afternoon and evening in the Hoogland Center lobby.
The Arts Council's board of directors will staff a silent auction in the gallery. Performances will take place on several stages inside the Hoogland Center's spacious four floors.  Guests will receive detailed schedules upon arrival.
Fireworks will begin at 8:15 P.M.  People are invited to gather at the intersection of Capitol Avenue and Fourth Street for the show.
Saturday, December 31, 2022
Admission available at www.hcfta.org/tickets.
Call 217-753-3519 for information.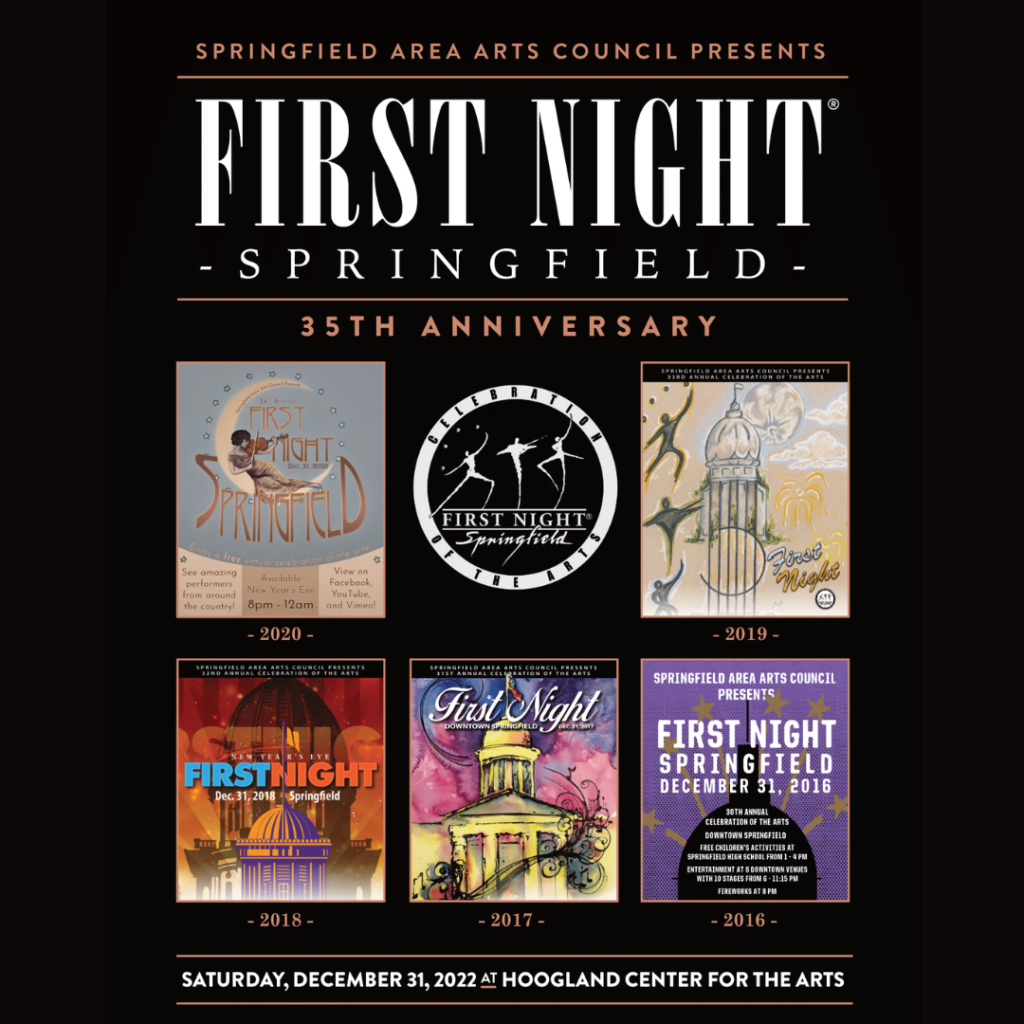 Schedule
1:00-4:00pm – Children's Craft-Making and Performance – Hoogland Center for the Arts – Free
4:00-5:45 PM – Watch Night – Union Baptist Church – Free
6:00-10:30 PM – Evening Entertainment – Hoogland Center for the Arts – $20 adults, $5 youth
8:15-8:30PM – Fireworks – Fourth Street and Capitol Avenue – Free
Tap to view larger
Sponsors
Bergh-White Opticians
Julie Dirksen
Douglas Kamholz
Steve, Kristin, and Marley Myers
Allison Lacher and Nathan Steele
Lincoln Land Community College
Mark and Cheryl Pence
Al Shull
Sheila Walk
Penny Wollan-Kriel
In-kind sponsors:
Hoogland Center for the Arts
NPR-Illinois
City of Springfield
Illinois Arts Council Agency
These contributors helped to make sure that the Arts Council can pay all its FIRST NIGHT SPRINGFIELD entertainers, and we are indeed grateful.