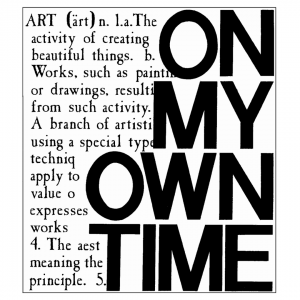 The Springfield Area Arts Council's 24th On My Own Time art exhibition will open on Wednesday, November 3, 2021, in the M. G. Nelson Family Gallery at the Springfield Art Association (700 North Fourth Street, Springfield).  The exhibition will close on Saturday, November 20.  An opening reception will take place on Wednesday, November 3, from 5:30 to 7:30 P.M.  The presentation of awards will begin at 6:15.  The public is invited to attend the reception, which is free, open to the public, and accessible.
Eighty-seven artists submitted one hundred eighty-six works of art to compete in twelve workplace exhibits that were held during October.  A panel of local artists conducted the judging, and all entrants were awarded ribbons for participation in thirteen categories.  Sixty-one pieces of art were selected from the twelve exhibits to receive first place awards, and they comprise the 2021 On My Own Time city-wide exhibit and competition, vying for first-, second-, third-place, and honorable mention awards.  In addition, the Peg Lonson Best of Show Award is given to the overall outstanding art entry in the citywide exhibit.  (Lonson was president of the Springfield Area Arts Council's Board of Directors from 1984 until 1986, and she later served as Deputy Director of the Illinois Arts Council Agency.  The competition and exhibition is a program she developed in Springfield.)
Rosemary Buffington, coordinator of this year's program, says, "This is such a worthwhile program both for employees and employers.   It is amazing to see the creativity of those who put in a day's work and then on their own time create exciting works of art.   The Springfield area is fortunate to have such a tremendous outlet for workers turned artists."
Participating employers in 2021:
Chatham Public Library
City of Springfield
Illinois Department of Healthcare and Family Services, Office of the Inspector General
Illinois Department of Revenue
Illinois Environmental Protection Agency
Illinois State Board of Education
Illinois State Museum
Illinois State Police
Lincoln Land Community College
Office of the State Appellate Defender
Springfield Public School District 186
The Wardrobe
2021 judges:
Bryon Hartley, glass artist
Mary Ellen Strack, artist and educator
Roger Williams, photographer
On My Own Time is organized as a biennial exhibition program by the Springfield Area Arts Council with funding support from the Illinois Arts Council Agency.  The purpose of the program is to help local businesses, agencies, and educational and medical institutions identify and celebrate the artistic talents of their employees.
For forty-five years, the Springfield Area Arts Council has sought to enrich the community through public access to the arts with a variety of performing and visual arts programs in Sangamon and Menard counties.