[fusion_builder_container hundred_percent="no" hundred_percent_height="no" hundred_percent_height_scroll="no" hundred_percent_height_center_content="yes" equal_height_columns="no" menu_anchor="" hide_on_mobile="small-visibility,medium-visibility,large-visibility" status="published" publish_date="" class="" id="" background_color="" background_image="" background_position="center center" background_repeat="no-repeat" fade="no" background_parallax="none" enable_mobile="no" parallax_speed="0.3″ video_mp4="" video_webm="" video_ogv="" video_url="" video_aspect_ratio="16:9″ video_loop="yes" video_mute="yes" video_preview_image="" border_size="" border_color="" border_style="solid" margin_top="" margin_bottom="" padding_top="" padding_right="" padding_bottom="" padding_left=""][fusion_builder_row][fusion_builder_column type="1_1″ spacing="" center_content="no" link="" target="_self" min_height="" hide_on_mobile="small-visibility,medium-visibility,large-visibility" class="" id="" background_color="" background_image="" background_image_id="" background_position="left top" background_repeat="no-repeat" hover_type="none" border_size="0″ border_color="" border_style="solid" border_position="all" border_radius="" box_shadow="no" dimension_box_shadow="" box_shadow_blur="0″ box_shadow_spread="0″ box_shadow_color="" box_shadow_style="" padding_top="" padding_right="" padding_bottom="" padding_left="" margin_top="" margin_bottom="" animation_type="" animation_direction="left" animation_speed="0.3″ animation_offset="" last="no"][fusion_text columns="" column_min_width="" column_spacing="" rule_style="default" rule_size="" rule_color="" hide_on_mobile="small-visibility,medium-visibility,large-visibility" class="" id=""]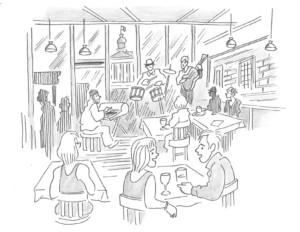 Sketch by Jim Edwards
[/fusion_text][fusion_text columns="" column_min_width="" column_spacing="" rule_style="default" rule_size="" rule_color="" hide_on_mobile="small-visibility,medium-visibility,large-visibility" class="" id=""]
Uptown Friday Night, a year-round series of jazz concerts held at Robbie's Restaurant for decades, went on hiatus in March 2020 when the COVID-19 pandemic came to Springfield.  Because Robbie's owner Archer Bailey retired soon thereafter, the Springfield Area Arts Council had to search for a new venue.  Now that it is safer for musicians and audiences to gather, a new partner for the series has been found.
The Arts Council is happy to announce that Boone's (301 West Edwards Street, Springfield) will host the best local jazz ensembles each Friday evening.  The renewed series is called Friday Night Jazz.
The new series retains much of the old.  There will be no cover charge; food and beverage will be available for purchase.  The venue is accessible, and families are welcome.  5:30-7:30 P.M. remains the time frame.
November Bands:
5 = Chahrm with Ada Lou
12 = Smooth and Blue Band
19 = Stumpy Joe
26 = Frank Trompeter Quartet
Call Sheila Walk at 217-753-3519 for details.
[/fusion_text][/fusion_builder_column][/fusion_builder_row][/fusion_builder_container]