The National Endowment for the Arts and the Poetry Foundation partner with state arts agencies to support Poetry Out Loud, a competition that encourages high school students to learn about great poetry through analysis, memorization, and recitation.  The program helps teens master public speaking skills, build self-confidence, and learn about their literary heritage.
The 2022 season marks the 17th anniversary of Poetry Out Loud. Since its inception, the program has reached almost 4 million high school students and 60,000 teachers from 16,000 schools in every state, the District of Columbia, Guam, Puerto Rico, and the U.S. Virgin Islands.
In Illinois 2022 : 4597 students and 127 teachers from 28 schools participated.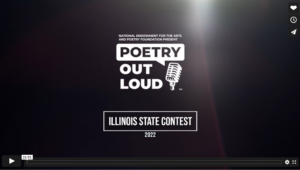 Illinois Poetry Out Loud 2022 from Dave Cain / UMEDIA, Inc.
The Illinois Arts Council Agency works with these regional partners to produce Poetry Out Loud in Illinois:
Southwestern: Southwestern Illinois College

Northern: Rockford Area Arts Council

Eastern: 40 North/88 West

Chicago and Suburbs: The Poetry Center of Chicago

Central: Springfield Area Arts Council
For more information, please visit www.poetryoutloud.org or call 217-753-3519, or you may email Central Illinois regional coordinator Sheila Walk at programs@springfieldartsco.org.